Shooting Ranges
Have an interest in learning more about guns and how they work? Looking to shoot for the first time, but don't know where or how to start? Then look to your local shooting range as a fun, safe shooting destination.

New Shooters Welcome

Local shooting ranges are a fantastic resource for helping those new to the hobby. Since most shooting ranges also have fully stocked gun store, the experienced staff will gladly assist new shooters by answering their questions as they become familiar with their chosen firearms.
Safety is a Priority at the Shooting Range

Your local shooting range is probably one of the safest places to be because the staff will ensure that shooters adhere to the posted safety rules. Any gun has the potential to be a dangerous tool, but when handled carefully in a safe environment there will be no issues. Any questions or concerns can be addressed to your shooting range's staff. Best of all, a lot of the safety lessons learned at the range can be applied to all instances involving a firearm.

Education/Training
With states requiring safety/training courses for those seeking a gun permit, the shooting range offers the best place to get real experience with a firearm. These classes offer hands-on training and safety lessons with a firearm so that the permit applicant is comfortable and properly educated. Check with your local shooting range to see if they offer certified training programs that will help you qualify for your state's permit process.


Beyond education for licensing, the shooting range offers the best place to learn all aspects of using a firearm. From the basics to more advanced shooting techniques, the shooting range can help you improve your firearm skills.

One of the overlooked elements of going to the shooting range is that using a firearm can help improve your hand-eye coordination and fine motor skills. Plus, depending on the type of gun you use, you can build up your stamina from holding and using the firearm over time.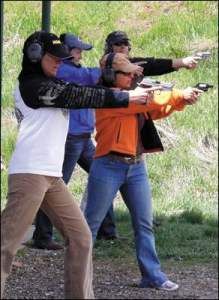 A Fun Time
This a spect cannot be overlooked. While firearms are a serious tool, your shooting range can be an incredibly fun place to visit. Surrounded by fellow hobbyists, the shooting range is a great place to mingle with like minded individuals. You'll find a friendly environment with helpful staff and fellow patrons.


The shooting range is a great place to introduce kids to the hobby of shooting. The skills learned from shooting, such as responsibility and respect for the firearm, will instill important lessons in children.


Visit the Shooting Range Today
When you have some free time, please visit your local shooting range to experience the shooting pastime for yourself. Using a firearm is a unique experience and the shooting range is the perfect resource to help you familiarize yourself with the hobby.
Shooting Ranges